Key Takeaways
Millions of older adults are likely eligible for, but not enrolled in, benefits that can save money on health care, prescriptions, food, and more.

Boost Your Budget® Week is an annual campaign to educate low-income older adults about these money-saving benefits.

Download our sample posters, social media images, and other tools to tailor the campaign in your area.
Public and private benefits are a lifeline to helping low-income people with Medicare age well. But research has shown that there are still many barriers to enrollment in these programs, including knowledge of benefits and how to apply. As a result, millions of older adults are likely eligible for, but not enrolled in, benefits that can save money on health care, prescriptions, food, and more.
Boost Your Budget® Week: Find Your Benefits to Age Well aims to change that! This national campaign unites aging and disability service providers under a common charge to:
Educate low-income Medicare beneficiaries and their caregivers about the benefits available to improve their health and economic security, and
Connect individuals to online (BenefitsCheckUp

®

) and community resources for benefits screening and application assistance.
When is Boost Your Budget Week?
Boost Your Budget Week takes place each year during the second full week of April (April 12-16, 2021). However, you are welcome to use these materials in your outreach messaging at any time.
One campaign, multiple possibilities
NCOA welcomes the participation of any community or state agency that is working to assist low-income seniors and adults with disabilities to enroll in benefits. There is no limit on what your organization may do to draw attention to your services. For example, you may wish to:
Share information about benefits as part of a food drive, health fair, or tax assistance event
Sponsor a "telethon" at your local radio or TV station
Run ads in local newspapers or on social media
Invite media, legislators, and the public to tour your facility and learn about the importance of benefits for your community
Use our tools to learn more!
Campaign logo
Download the Boost Your Budget logo to use with additional materials you may want to create for your campaign. This logo is also available in Spanish.

Custom posters
Hosting an event in your community? We've created posters for you to customize to advertise your campaign activities.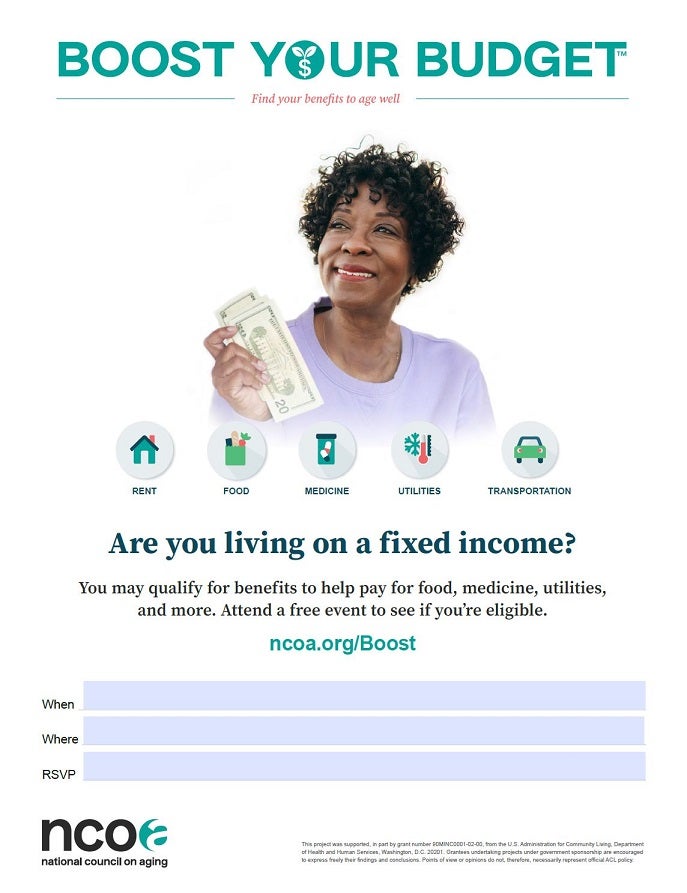 Download the fillable posters in English and in Spanish.
Media tips and tools
Our media toolkit contains everything you need to get the word out about campaign activities in your area, including:
A calendar outlining when to time announcements and pitches
Sample calendar announcement
Media advisory
Tips for pitching reporters, including sample letters and scripts
Template press release to tailor with your organization's local information
Download the media tips and tools (in Word)
Also available in Spanish (in Word)
Public Service Announcements (PSAs)
We've created a series of television and radio PSAs that you can market to stations in your community to get the word out about the campaign. Download the PSAs.
You can also watch these on our YouTube playlist. And check out our full length video here:
Social media posts
Promote Boost Your Budget Week on social media and emphasize your organization's capacity to help seniors get what they need. We encourage you to personalize your posts to showcase your organization's specialties. The tips below can help you maximize engagement and leads:
Always schedule posts on your social channels for times your audience will be online. For Boost Your Budget™ Week, that means matching the schedules of older adults and caregivers. That will mean aiming for 9:00 a.m. or 5:00-7:00 p.m.
Adding images or videos to your posts will increase the number of people who see them. You can still add a URL in the text of your post to help drive traffic to your site.
Only have one call-to-action in each post and make it immediately actionable. In other words, don't tell people about something they have to wait for.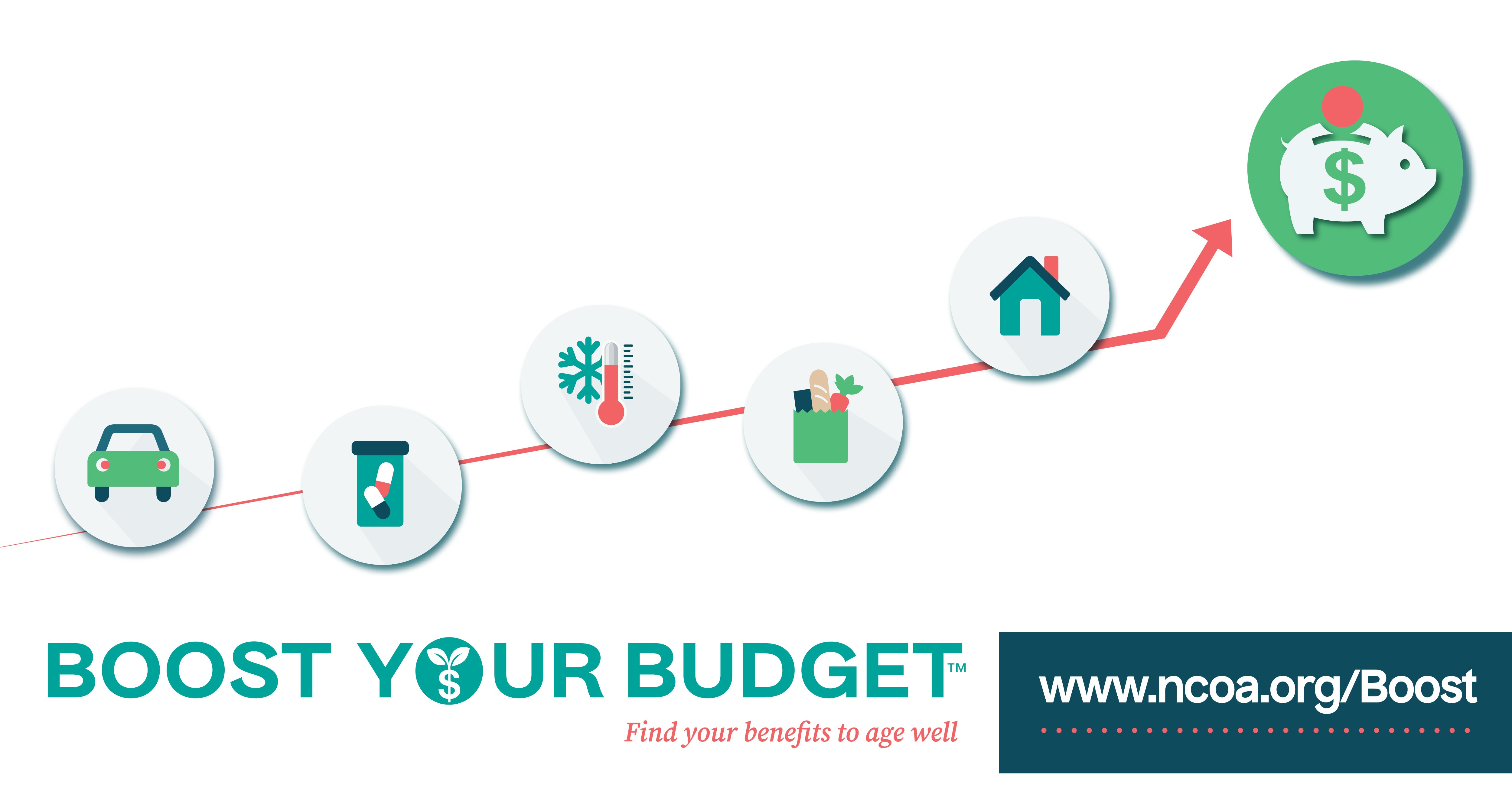 Newsletter blurbs
Do you have a print or electronic newsletter that goes out to your community? Use our sample blurbs (Word document, in English and Spanish) to advertise campaign activities in your newsletter.