Key Takeaways
Program participant testimonials are a powerful tool to use when sharing information about your program or organization.

Learn how to ask effective questions to get specific responses, and how adding a photo or video can enhance your participant testimonials.

Sharing these testimonials helps other older adults understand what it is like to participate and how the program or event could help them.
One of the most powerful ways to share information about your programs and services is through the stories and testimonials of participants. Collecting and sharing testimonials provide an opportunity for other older adults in your community to hear from their peers on what it is like to participate in a program or event at your organization. While simple feedback like, "it was a great class" or "I would recommend this to a friend" is beneficial, going a bit deeper and hearing more about a participant's experience can create more compelling stories that will spark others' interests.
The stories they share may help someone else realize that the program you are offering is a good fit for them.
It can be helpful to provide multiple opportunities for participants to share their feedback. A survey at the end of a class, a comment box at your senior center, or a form in your newsletters are all possibilities. If you recognize that a participant really enjoyed a class or event, it might be beneficial to reach out to them and request a testimonial. Participant testimonials can be collected in a variety of ways, such as through a survey or an interview over the phone, by videoconference, or in person. You can also utilize available online programs such as StoryCorps or Photovoice Kit. Be sure to tell the participant how you are going to use their testimonial and why you are collecting it.
Asking effective questions for specific responses
Consider the following sample questions when requesting a participant testimonial:
What attracted you or made you want to join when you heard about the program?
What happened during the first class? What made you want to stay and complete the whole program?
What did you like the best about the program? What is one key lesson or takeaway?
What are you doing differently as a result of taking the class? How has the class changed your life?
What do you think it was about [program name] that helped you feel more comfortable about [a goal of the class]?
Why would you recommend the class to a friend or family member?
It may also be helpful to find out more about the individual and ask what other community activities they are involved in, or what a typical day looks like for them.
Below is a testimonial that was collected from an Aging Mastery participant:
"In the Fall of 2019 I took the 10 week AMP class.  I thoroughly enjoyed it and looked forward to it every week.  The homework was thought-provoking and helped me to develop new habits and restored long-forgotten ones like goal setting and journaling that are guiding my life now.  The class helped me through some very difficult times; I don't know how I would have made it through without it.  I was able to make new friends and form a support system. Those lessons continue to this day.  I'm a better person for the experience. " - Wendy W., WA
Why adding a photo to your testimonial helps
If the testimonial will be in writing, consider taking or asking the participant for a photo. Be sure to request a signed consent form allowing your organization to use their image.
Here are some quick tips for taking better pictures on your smartphone:
Photo quality is best when you use the camera on the back of the smartphone instead of the "selfie" camera.
Wipe off the lens to make sure there are no fingerprint smudges.
Fill the frame with the subject and get closer if you need to.
Be sure that the subject has light on their face. For example, sitting facing a window.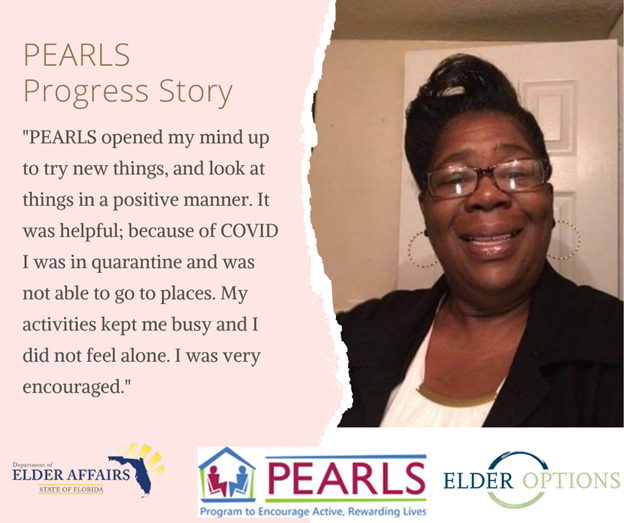 Credit: Elder Options
Consider telling your participant's story through video
You can also take your particpant testimonials a step further by recording a short video. Hearing a participant tell their story can be even more impactful. According to Forbes.com, individuals are more likely to retain what they hear in a video message compared to reading a story. If your budget is small, you can record a short video on a smartphone.
See an example of a video testimonial Mid-America Regional Council (MARC) in Missouri.
How to make collecting participant testimonials more fun
If collecting participant testimonials is difficult, consider adding a social time after the last session of a class. In addition to allowing more time for the participants to connect, it can also be an opportunity to collect feedback about the class. Participants could even interview each other about their experiences.
Now that you have a powerful testimonial in hand, it is time to get it out there. The testimonial can be shared on social media, in promotional materials, with policymakers, or even in a press release to announce an upcoming program.
For additional tips on how to collect better stories, check out this article on 10 Tips to Harness the Power of Stories.
This project was supported, in part by grant number 90CSSG0048 and 90FPSG0051 from the U.S. Administration for Community Living, Department of Health and Human Services, Washington, D.C. 20201. Grantees undertaking projects under government sponsorship are encouraged to express freely their findings and conclusions. Points of view or opinions do not, therefore, necessarily represent official Administration for Community Living policy.