Key Takeaways
While traveling to a museum may not always be an option, the National Gallery of Art has a variety of resources focusing on different artists and artistic movements that you can view online.

Lifelong learners can enjoy free texts and videos related to your favorite artists and help you discover new favorites.

Enrichment through art allows us to travel around the world and gain new perspectives.
The National Gallery of Art in Washington, DC, invites you to explore our online offerings and engage with art without having to travel to a museum. Multiple studies demonstrate that visual art therapy improves cognitive function in older adults.1 Doctors have even prescribed trips to art museums to stimulate neural activity and improve patients' sense of well-being.2
How You Can View the Gallery's Art from Your Home
If you aren't able to visit the Gallery in person, you can explore the colorful, energetic compositions of Stuart Davis: In Full Swing, or religious and mythological narrative scenes in Tintoretto: Artist of Renaissance Venice from home through free videos. See the American experience through the eyes of artists with Uncovering America, which features essays, images, and activities to gain new perspectives about the Civil Rights Movement, the Harlem Renaissance, the Industrial Revolution, and more.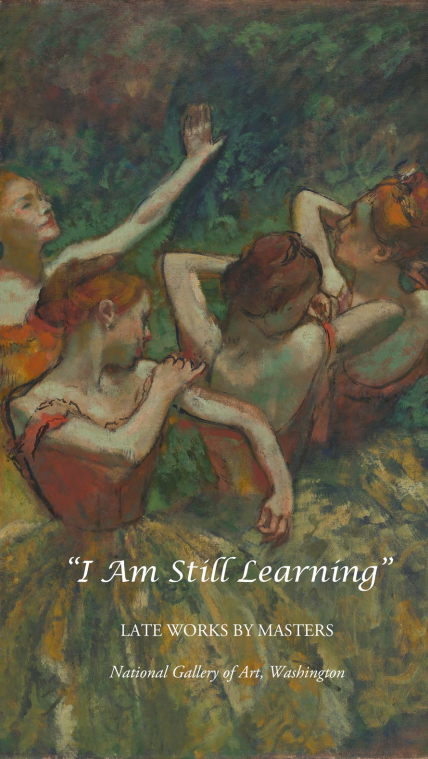 One of our most popular resources for lifelong learners is the text I Am Still Learning: Late Works by Masters. This program highlights masterpieces created by artists late in their careers. Alexander Calder, Paul Cézanne, and Winslow Homer are just a few of the artists featured.
Prefer to look at resources in print? Check out the free loan program and other resources here.
Looking for something a little more interactive? The (free) virtual program The Art of Looking encourages participants to share observations and questions to broaden everyone's understanding of a single work in each hour-long session. Please join us to engage with art and with others for a conversation facilitated by a Gallery educator.
We're constantly adding new content exploring artworks from the past and present and hope you will visit us on site or online as we continue to learn together.
Sources
1. Masika GM, Yu DSF, Li PWC. Visual art therapy as a treatment option for cognitive decline among older adults. A systematic review and meta-analysis. J Adv Nurs. 2020 Mar 23. doi: 10.1111/jan.14362. Epub ahead of print. PMID: 32201968.
2. Henry, S. (2018). 'Doctors to prescribe museum visits to help patients 'escape from their own pain'', Canadian Broadcasting Corporation, 12 October. Found on the Internet at: https://www.cbc.ca/news/canada/montreal/montreal-museum-fine-arts-medecins-francophone-art-museum-therapy-1.4859936 (Accessed 3 May 2021)