Key Takeaways
The Physician Fee Schedule Look-up Tool provides a way to easily search services covered by the Medicare Physician Fee Schedule.

Community-based organizations (CBOs) can use the tool to find reimbursement rates for services like Diabetes Self-Management Training for your area.
Each year, the Centers for Medicare and Medicaid Services (CMS) updates the Medicare Physician Fee Schedule. CMS provides a Medicare Physician Fee Schedule look-up tool for providers to find reimbursement rates for more than 10,000 services for Fee-for-Service, also known as, Original Medicare. The look-up tool is updated quarterly. Rates are retroactive to the start of the calendar year.
Please note: Medicare Advantage and Medicaid may have different reimbursement rates, and it is important to check with each plan and your state's Medicaid office about their rates and requirements.
Community-based organizations (CBOs) can use the data in the Physician Fee Schedule to find reimbursement rates for their specific locality for services like Diabetes Self-Management Training (DSMT), Chronic Care Management (CCM), and Health Behavior Assessment and Intervention (HBAI) services. With this data in-hand, organizations can determine the capacity required to cover costs and generate revenue as a Medicare provider.
Example 1:
To start your search by visiting this website and click on "Begin Search": https://www.cms.gov/medicare/physician-fee-schedule/search/overview
After accepting the End User Point and Click Agreement, you will reach the search tool.
As an example, we will look up the reimbursement rate for group DSMT, which is HCPCS code G0109.
The dropdown boxes in the search tool gives you choices for:
Year
Type of information
HCPCS criteria and HCPCS code
Modifier, and
MAC option.
For year, we will look at the rates for 2021.
For the "type of information", the Physician Fee Schedule Look-up tool provides the options of pricing information, payment policy indicators, relative value units, and a geographic practice cost index. For this example, we will select to see the pricing information only.
We are going to start by looking at one HCPCS (Healthcare Common Procedure Coding System) code, also known as a procedure code, of G0109. The system allows you to select if you would like to look up a single HCPCS code, a list of HCPCS codes, or even a range. We will also select "All Modifiers". Modifiers indicate that a service was altered by some specific circumstance but did not change in its definition or code.
Finally, we will start by looking at what the national rate is for this code by selecting "National Payment Amount". After all this information is entered, you can press "Search fees".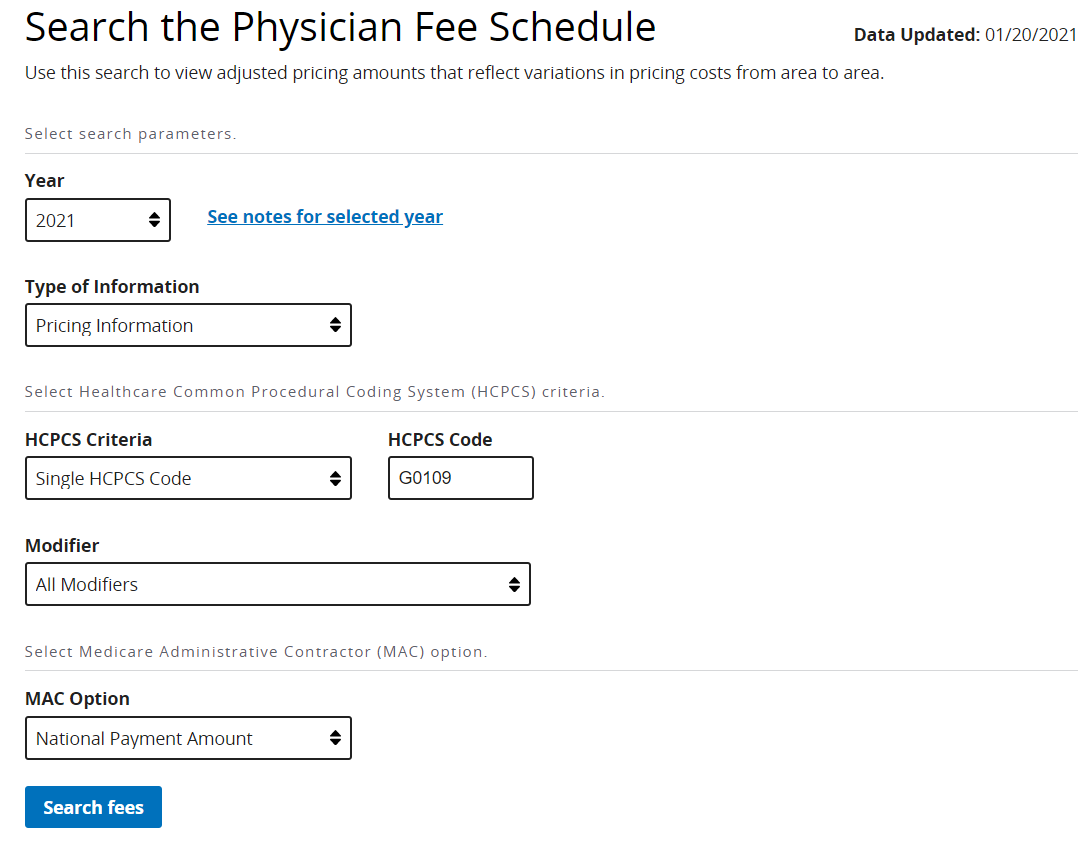 The search results show the following:

The search results provide you with a lot of data, but the part that you are looking for is the "Non-Facility Price" highlighted in yellow. The non-facility price is when a service is performed in a setting like an office. Some services also have a facility price, which would be when a service is provided in a hospital or an Ambulatory Surgical Center. There is not a facility price for this code since it is for outpatient diabetes self-management training, a Part B service.
For the HCPCS code of G0109, which is Diabetes Self-Management Training group (2 or more), it is reimbursed at $15.70 per person, per 30 minutes. DSMT services are subject to coinsurance requirements. For most Part B codes, including DSMT, Medicare pays 80 percent of the amount listed and the beneficiary is responsible for 20 percent. You can also choose to download the information into an Excel document.
Example 2:
Let's start a new search. This time we are going to look up two HCPCS codes, one for individual DSMT, which is G0108, which is also billed in 30-minute increments, and then we will keep group DSMT, which is G0109.
We also want to find information for a specific area. States and regions are covered by different Medicare Administrator Contractors. This tool allows you to search by state, and even some regions. We will look up the information for Nevada.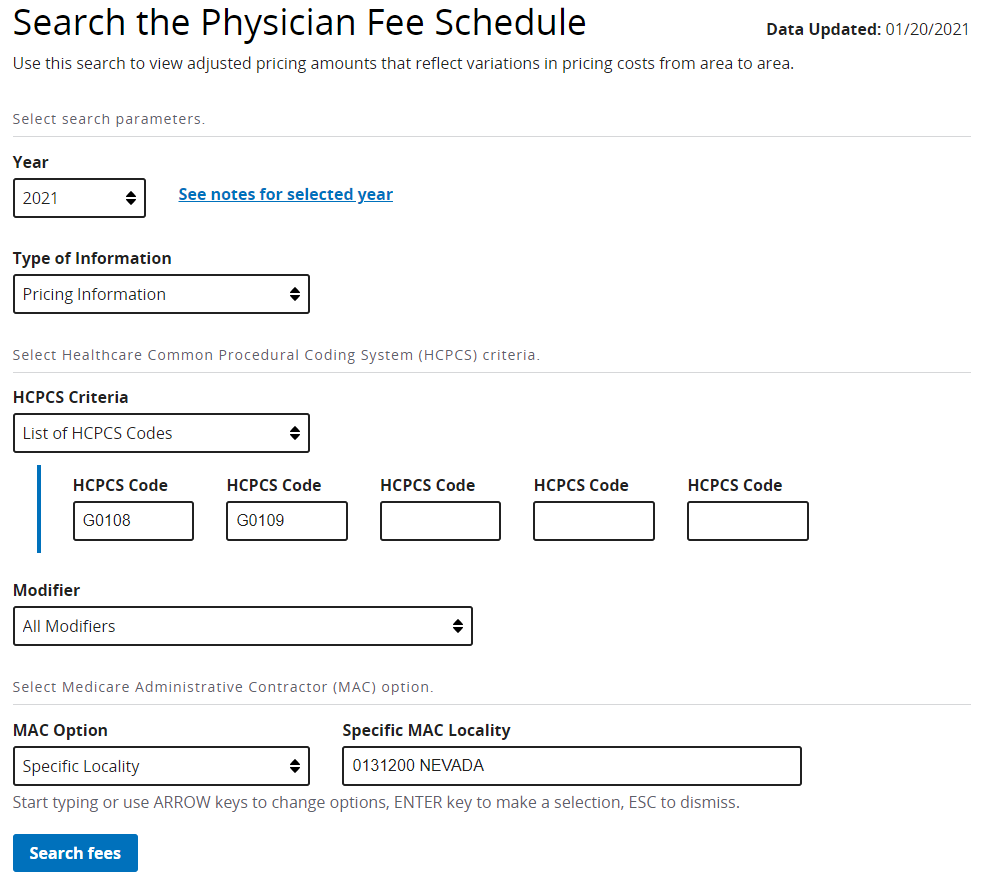 The search results show the following:

You can see this time, there are two results showing for the two codes we entered. It also has information for the "MAC locality" in the 4th column. Lastly, you can see that in comparison to the national rate the reimbursement rate for G0109 is $15.87, which is not much of a difference from the national rate of $15.70, but there is some variation.
For more information, CMS provides a guide on how to use the searchable Medicare Physician Fee Schedule.