Key Takeaways
By 2025, approximately 1 in 5 drivers will be age 65 or older.

Many older adults may start to lose their ability to drive safely, due to aging-related factors, and may eventually rely on alternative methods to meet their transportation needs.

Along with public transit, self-driving ride-hailing vehicles could provide mobility as a service (MaaS) to expand older adults' mobility and independence.
The National Council on Aging (NCOA) conducted an online survey of adults aged 55 and over to better understand attitudes and perceptions about self-driving ride hailing (SDRH) services, interest in and concerns about SDRH, and perceptions about alternative transportation in general. The survey, conducted from August through September 2020, also asked questions about current transportation use. Volkswagen Group of America provided a grant to design and conduct the survey.
This research is of interest to older adults, their families and those who provide health and social services because older adults outlive their decision to stop driving by about 10 years for women and 7 years for men. The decision to stop driving could be due to declining vision, physical and cognitive abilities or use of medications that impair driving.
During the years of not being able to drive, alternative methods of transportation are needed by older adults to go to doctor's appointments, shop, and carry-on activities that keep them socially connected, like attending religious services, visiting friends and family and enjoying movies and other forms of entertainment.
Caregivers most often provide transportation to their family and friends who are no longer able to drive. In some parts of the U.S., public transportation, taxis and ride hailing services like Uber may be options for older adults. However, in many rural parts of the U.S., these alternatives are not available. Also physical and cognitive disabilities make it difficult for many older adults to use other modes of transportation when available.
Technology can play an important role in addressing these challenges. Today, many in-car technologies support the driver while driving. These technologies help by performing parts of the driving task for the driver. Soon, cars will become so advanced that they will be able to support the driving task entirely from start to end with little or no supervision from the driver. While there would still be a person monitoring the car, the car would be able to do all the driving without any additional support from the driver. Another advancement is self-driving ride-hailing services, such as a self-driving taxi and/or Uber, Lyft, a self-driving public transit shuttle, or a self-driving shuttle operated by a retirement community. These services would be able to pick up and drop off people at the location of their choice.
The NCOA survey asked about older adults about self-driving ride-hailing services. Almost 2,500 people over the age of 55 responded to the survey. The average age of those who completed the survey was 60 years old; 64% were male. Most respondents were white (75%), 15% were Black or African American, 4.3% were American Indian/Alaskan Native and 30% reported they were of Hispanic or Latino origin. Most respondents were from metro areas (88%), 8% resided in suburban areas and 4% were from rural areas.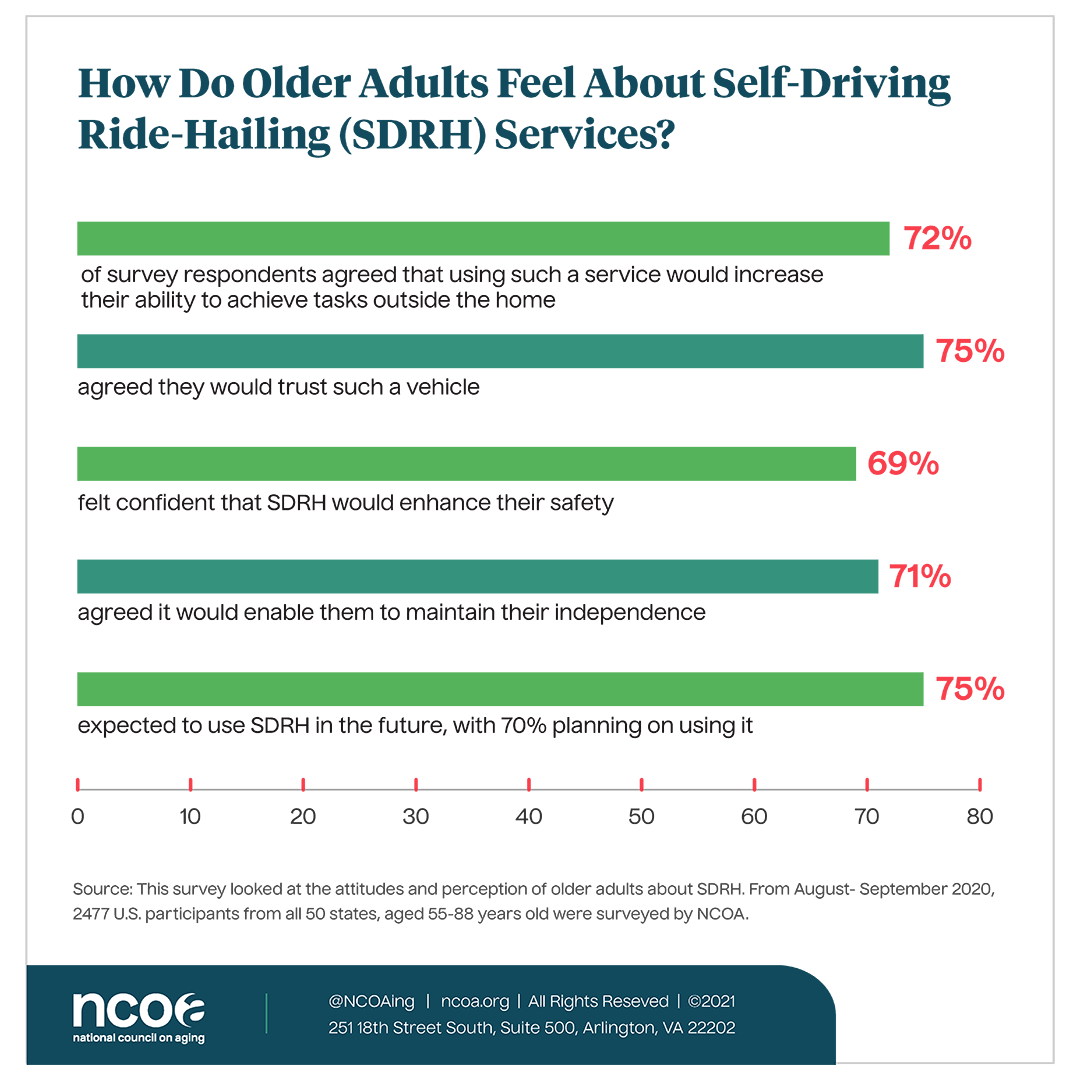 The top five aspects of SDRH that were important to older adults are:
Safety
Quality of service
Convenience
Traffic
Overall comfort of riding in the vehicle
The least important aspects of SDRH to older adults:
Luxurious interior
Style of vehicle
Time
Companionship
Accessibility
The top three concerns about SDRH were:
Safety
Privacy and use of personal data
Convenience
This survey provides important insights into older adults' potential use of and concerns regarding SDRH services for those planning transportation services in local communities to augment existing alternative modes of transportation. This study can also be used by those designing cars of the future to ensure that the needs and safety concerns of older adults are integrated into design features.
Read or download the full report: The National Council on Aging (NCOA) and VWGoA release national survey results of older adults' perceptions of self-driving ride hailing services.