Key Takeaways
Consumer prices are on the rise—and older adults are feeling the pinch. If you live on a fixed or limited income, inflation can hit especially hard.

A monthly budget calendar helps provide insights into and control over your finances, which can reduce your money-related anxieties.

Learn how to create your own simple budget calendar in three easy steps and use it to stretch your grocery and other dollars.
It's no secret that inflation has hit the grocery aisle. If you're an older adult who's concerned about the impact of rising food costs on your expenses, a monthly budget calendar can help.
Learn how this simple money-management tool enables you to predict and plan your cash flow; see how to create a budget calendar for your household; and get more information about Supplemental Nutrition Assistance Program (SNAP) and other food assistance benefits that can help you stretch your budget dollars.
Why should seniors create a budget?
There are many reasons why tracking your finances is important, no matter your age or income bracket. However, when you live on a fixed or limited income—as many older adults do—your expenses can unexpectedly escalate while your ability to pay for them stays the same.
Take food, for instance.
According to the U.S. Bureau of Labor Statistics, prices rose in every "food-at-home" category during the 12-month period ending in February 2022. And those increases were significant: ranging from a low of 5.2 percent for dairy products, to a high of 13 percent for meat, fish, poultry, and eggs.
Combined with inflation across the board, reports the Washington Post, these rising food costs are straining household wallets across the country—with older adults bearing the brunt.1 "I'm scraping the bottom of the barrel," says one man quoted in the article. "I do most of my food shopping in markdown bins and don't buy much else."
If you relate to this dilemma, you most certainly are not alone.
UMass Boston's Elder Index measures the income that seniors need to live independently. According to its interactive modeling tool, an older adult in excellent health who lives in the Washington, D.C. area and pays a mortgage needs $3,312 per month to cover basic living expenses.2 This includes a $275 allowance for groceries.
Now, consider that the average monthly Social Security check was $1,658 at the end of 2021.3
"Even with other sources of income, it's easy to see how many older adults necessarily walk a very thin line between spending less than they take in," said Brandy Bauer, director of NCOA's MIPPA Resource Center.
Setting up and keeping a budget both can help them weather today's uncertainties a little better—like when food prices rise—and stretch the dollars they have," Bauer said.
How does a budget calendar help?
While planning and keeping a monthly budget calendar won't protect against every surprise, there's still very good news: doing so helps you get a handle on your finances in a straightforward, easy-to-visualize way. When you can see exactly what your income will be in a given month—and precisely when it will hit your bank account—you can:
Plan your expenditures
Pay your bills on time
Head off any deficits
Get in the habit of saving
Make spending adjustments
Let's say you're that older adult in Washington, D.C. and you receive the maximum monthly SNAP benefit allotment of $250. Let's also say you shop once per week and follow a pretty consistent grocery list. If you usually spend $65 each week but your cart suddenly rings up at $100, writing it down on your budget calendar will give you a very clear sense of how that increase will impact the rest of your monthly cash flow. Then you can make spending decisions based on that information.
"The extra expense of my prescription medications really hurt my budget," Ms. G., 76, told NCOA when talking about her food assistance benefit.
Thanks to SNAP assistance, I now have help buying my groceries," said Ms. G, a 76-year-old SNAP benefits recepient.
Can you afford to spend $400 on food? If not, can you re-allocate money from another category to put toward your groceries? What other strategies could you use to stretch the food dollars you have?
How do you create a budget calendar?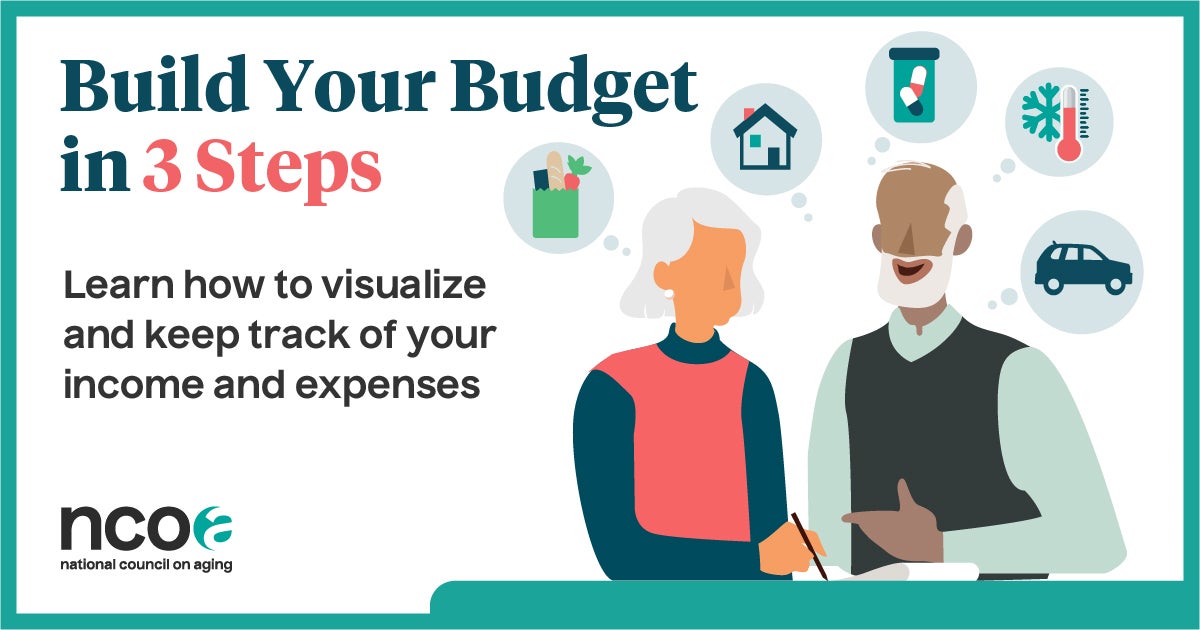 Using a calendar for budgeting is easy. You don't need Microsoft Excel or other computer software (unless you want to do it this way), and you won't have to consult an accountant for advice.
Here's what you will need:
A calendar: You can use a desk or wall calendar you already have or find a free budget calendar template you can print or use online. (You can even draw one out on paper).
Your income: Make a list of all the income you receive each month and when. This could include Social Security checks; income from pensions or retirement accounts; and disability benefits or SNAP payments (if you get these).
Your expenses: Gather up your regular monthly bills and when they're due. These include your mortgage or rent; your health insurance and medications; food; utilities; car payment or other transportation costs; and other fixed expenses.
Now, write each of these things on your calendar (see NCOA's example below for a budget calendar you can download).
Step 1: Mark down and circle your payday(s).
Step 2: Add what you spend on your bills and when.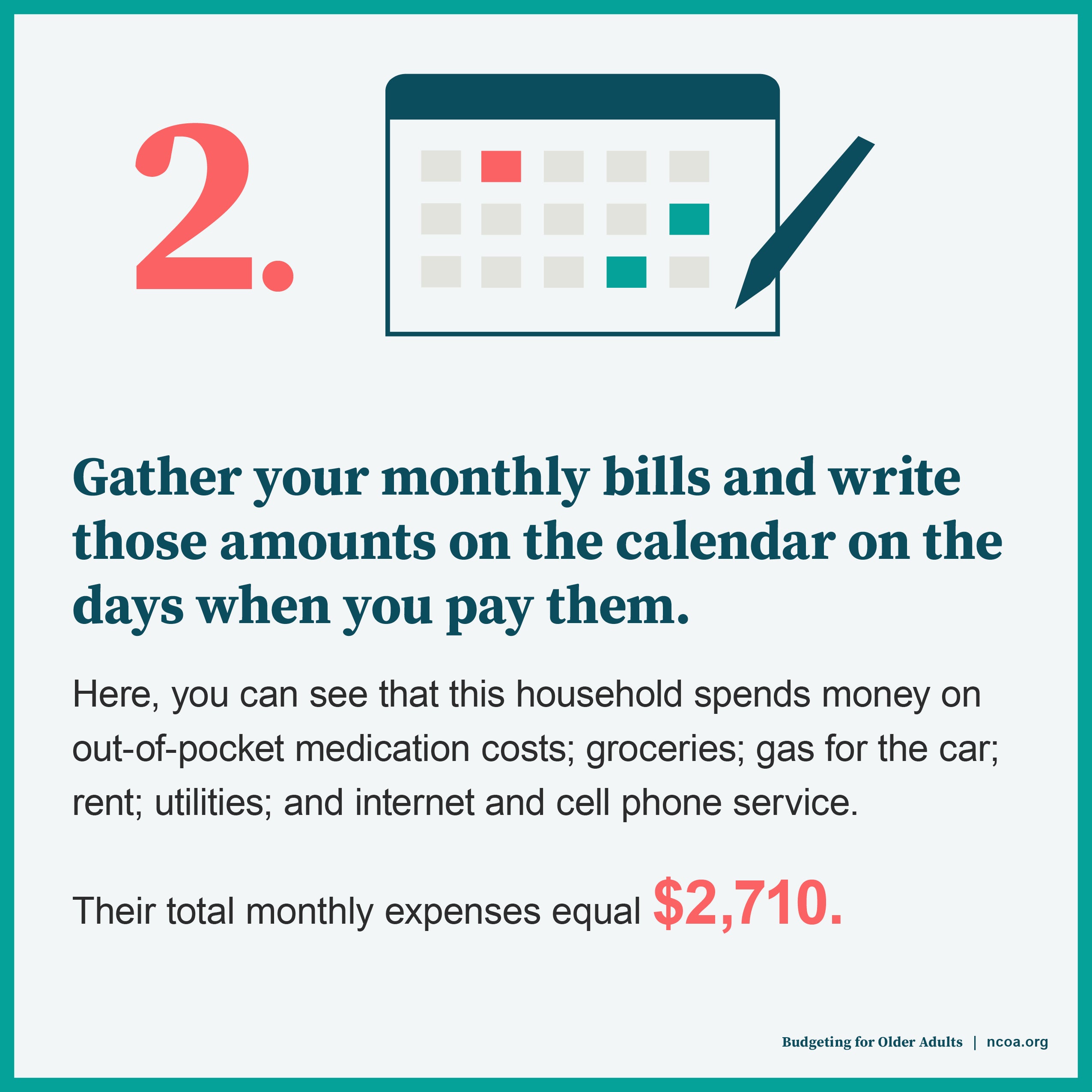 Step 3: Tally up. Subtract your total expenses from your total income to see where you stand.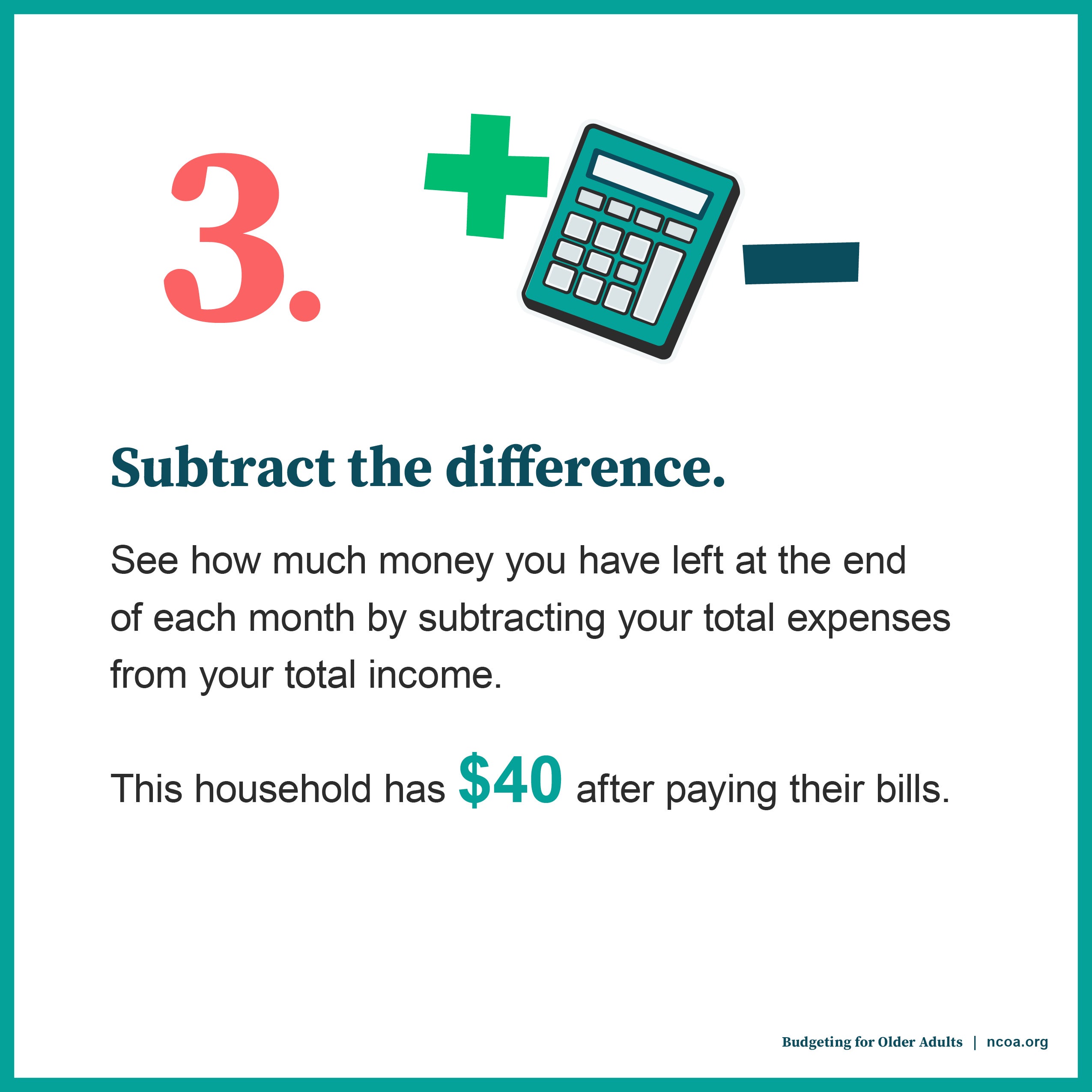 You can use any extra money for discretionary spending such as entertainment, birthday gifts, and clothing, for instance. Of course, it's always a great idea to save some of it, too, so you can better absorb those unexpected price changes.
By giving you a sense of control over your finances, a budget calendar can reduce your money-related stress and help you stretch your food dollars.
Try creating yours today with NCOA's blank calendar (link to download at home).
What if I need help paying for groceries? Can NCOA help?
Yes. Start by exploring our SNAP for Older Adults resource library, where you'll discover a variety of helpful articles including the income limits for SNAP, how to apply for SNAP assistance, where you can use your SNAP benefits, and much more.
You can also learn about the Senior Food Box program, how to get senior farmers' market vouchers, and where to find emergency food assistance near you.
When you're ready, you can use NCOA's confidential digitial tool BenefitsCheckUp to determine whether you qualify for SNAP or other food assistance programs that may be available in your area.
Sources
1. Bhattarai, Abha. (2022, March 21). Fewer hot showers, less meat: How retirees on fixed incomes are dealing with inflation. The Washington Post. https://www.washingtonpost.com/business/2022/03/21/elderly-inflation-fixed-income/
2. UMass Boston's Elder Index. Found on the internet at https://elderindex.org/elder-index (Data in the example accessed on March 25, 2022).
3. Social Security Administration, "Effect of COLA on Average Social Security Benefits." Found on the internet at https://www.ssa.gov/oact/cola/colaeffect.html