Key Takeaways
A community relations manager for Illinois-based Voluntary Action Center of Northern Illinois (VAC) shares her COVID-19 story on how they helped older adults during stay-at-home orders.

VAC addressed senior concerns by creating new contactless protocols, sanitation procedures, including Plexiglas barriers to keep its Meals on Wheels programs going.

VAC staff created new meal routes, identifying and adding new senior clients who were isolated at the start of the pandemic.
Image Caption: Volunteer Beverly Gorman delivering Meals on Wheels to John Whitney, June 2020. (Voluntary Action Center of Northern Illinois)
Even though the COVID-19 stay-at-home orders reduced ridership in its transit program, The Voluntary Action Center of Northern Illinois (VAC), a five-county nonprofit agency, tripled its meal recipients for its Meals on Wheels programs. Caring for seniors and seeking to help the most vulnerable gain access to nutrition and important services became our primary focus during the pandemic.
With nutritional programs offered in DeKalb, LaSalle, Putnam, and Bureau Counties in Northern Illinois, as well as public transit, paratransit, and medical transit services in Rural DeKalb County, throughout Kendall County, and in the northern portion of LaSalle County, we—like so many others—found our organization challenged in several ways.
Removing Waiting Lists, Adding New Meal Routes to Serve More Seniors
Prior to the pandemic, VAC had already experienced an increased need for home delivered meals. As the senior and disabled population continued to rise and with limited funding, we were forced to implement a waiting list for our Meals on Wheels service. And when the COVID-19 pandemic hit, we knew were going to face a possibility (and challenge) in serving many more people.
The first thing we did for our meal recipients was eliminating the waiting list, which spurred amazing growth in our programs. Though our congregate dining rooms were closed in Spring 2020, our staff contacted every person who had ever indicated an interest in Meals on Wheels, or had attended our luncheons, to see if they needed meals and if they wanted to be added to our Meals on Wheels routes.
This small change resulted in a three-fold increase in the number of senior clients throughout our service area. To ensure we could reach every meal participant, VAC accessed COVID Relief Funding through the DeKalb County Community Foundation and the Starved Rock Community Foundation.
With the increase in demand for Meals on Wheels, we created new delivery routes and started to recruit new volunteers to support the growing program. Despite growth, we still faced the challenge of staffing during the pandemic—as many of our loyal volunteers chose to step aside, as they themselves were part of the vulnerable senior population or feared contracting coronavirus. We are pleased to report, however, that the number of new volunteers grew in response to our public requests through newspaper, radio, and social media.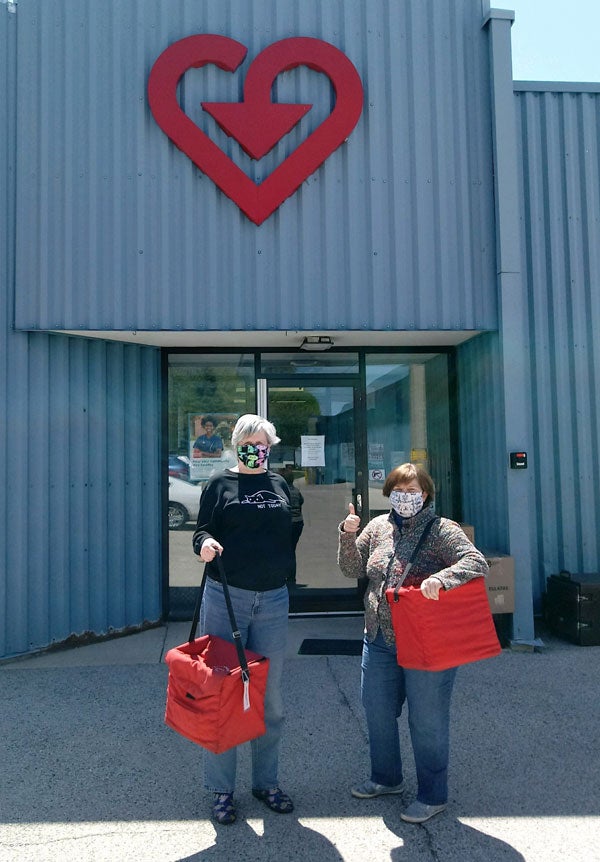 As the pandemic continued to unfold, we realized we needed to help our senior clients maintain a well-stocked pantry, in the event of an unexpected closure. In the beginning of shelter in place, there was a shortage of pre-packaged frozen meals nationally, so our staff addressed this pantry need by creatively preparing frozen meals. This meal prep innovation also led to the discovery that we could save about one-third of the cost in purchasing pre-packaged frozen meals. We plan to continue preparing frozen meals for our senior clients, as it represents a substantial savings for our program. We also increased the amount of shelf stable meal options for delivery, so that every individual could count on approximately a month's worth of food at hand in their homes. We also created an Amazon Wish List and publicized it widely to encourage donations to our nutrition programs.
New Sanitation Protocols to Address Safety Concerns
But caring for seniors went beyond providing meals. Looking at our transit operations, VAC saw drastic decreases in ride requests in 2020 due to local business closures and concerns of contracting COVID-19.
We responded to these concerns with new sanitation protocols, including the daily sanitation of buses, bus cleanings between rider drop-offs and pickups, and the eliminating of fares for transit riders. While many riders did not call for rides because of canceled appointments, new riders signed up for our service because we publicized that we had suspended fares. As we reinstitute fare collection, we have found that these new riders continue to enjoy our service. The reopening of Open-Door Rehabilitation Center and our local Adult Day Care have also resulted in a recent increase in ridership.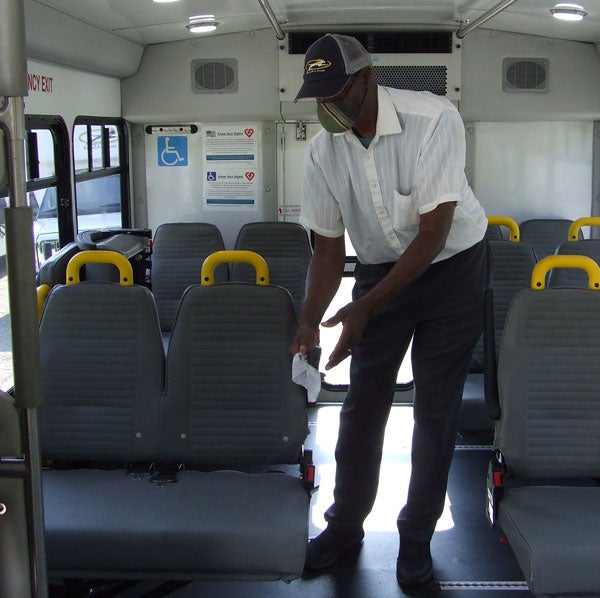 VAC also streamlined its three transit operations by creating one connected dispatch system. Ride sharing, vehicle sharing, driver sharing, and dispatch support helped transit employees stay employed during the pandemic. Our agency continues to assess the needs of our organization, rotating employees as needed to serve our clients.
Propping Up Virtual Fundraisers to Support VAC Programs
As the pandemic progressed in 2020, VAC still decided to move forward withplanning major fundraisers for all our service areas. Our marketing staff created new, virtual versions of our yearly events and found new local support through social media. We have since seen increased donations, as our staff also developed regular email communication to local supporters and clients. We also launched a weekly newsletter for our meal recipients called Monday Funny's and Feel Goods. Through this new communication tool, we are able to keep our clients up to date with our latest efforts, and can bring them a little bit of cheer each week.
We also invested time in working with other local nonprofits to increase our impact in shared missions to serve others. We have supported and participated in virtual 5K races, shelf stable food drives, and other initiatives such as Seeds for Seniors. This project, of the DeKalb County TRIAD, enlists seniors, law enforcement, and senior provider agencies to work together collecting flower seeds for "Grow Your Own" flower kits. Delivered to our Meals on Wheels recipients on May Day, this initiative is just one example of a project aimed at alleviating the ongoing isolation experienced by seniors throughout pandemic.
For all of us at VAC, the pandemic has offered great challenges and opportunities. We have grown in ways we would have never imagined. And as we honor older adults during Older Americans Month, we can't offer enough compliments to our nutrition, transit, and support staff for their creativity, spirit, and their untiring dedication to serving our senior clients.
Note from the Editor: Barbara Veras Nadeau contributed her COVID-19 story to NCOA. You can, too. Life has changed so much since the COVID-19 pandemic began. And each person has a story to tell. We want to hear yours.