Key Takeaways
Two recently released issue briefs underscore the long-lasting and pernicious effects of pandemic-related food insecurity among older adults.

The findings highlight the positive impact of SNAP in combatting food insecurity.

The key to continued program effectiveness is to assure that the program meets the growing demands and rising costs associated with the COVID-19 pandemic
With social distancing being among the most recommended prevention practices during the pandemic, older adults may be at greater risk of social isolation and have difficulty accessing necessary goods and services. Of particular concern during a pandemic that has both economic and health consequences is the rising rate of food insecurity in the U.S.
For many, benefit programs such as the Supplemental Nutrition Assistance Program (SNAP) act as a buffer between the diminishing of financial resources and consequences like food insecurity that may lead to greater health problems. To maintain a strong social safety net and ensure that people who need to access benefits are able to do so, we must undertake policies that focus on narrowing disparities stemming from gender inequality and systemic racism.
Recent research from NCOA and the Leading Age LTSS Center @UMass Boston suggests that while enhancements to SNAP were likely effective in temporarily decreasing pandemic-induced food insecurity among vulnerable older adults, the increased SNAP benefits provided by the American Rescue Plan must be made permanent and reflect increased food costs to overtake the growing number of older households expected to face food insecurity.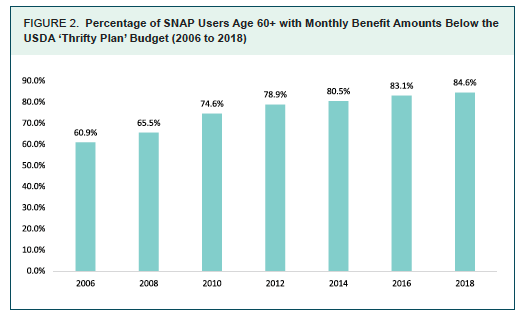 Two research briefs underscoring the long-lasting and pernicious effects of pandemic-related food insecurity among older adults:
Food Insecurity Among Older Adults and the Role of the Supplemental Nutrition Assistance Program (SNAP): highlights how the most recent recession in 2008 affected food insecurity among people over 60 and how those levels of hunger persisted even 10 year later. (Download)
The Effectiveness and Adequacy of the Supplemental Nutrition Assistance Program (SNAP) in Reducing Food Insecurity During an Economic Downturn: shows that although SNAP is effective at reducing food insecurity and skipped meals, SNAP benefits have not kept up with the rising cost of food and there are still a substantial number of older adults who are skipping meals despite being enrolled in the program. It also underscores how the roughly $12 billion in new funding allocated to food assistance programs under the American Rescue Plan should remain in place permanently and be enhanced to reflect rising food prices. (Download)