Key Takeaways
Need ideas for how to promote the Medicare low-income subsidies? These samples can help.

See how aging and disability agencies have marketed their MIPPA services in these sample flyers and posters.

Use our MIPPA flyer template and instructions to build your own trifold brochure.
How do you explain the Medicare low-income subsidies to older adults who may be unaware of them? These sample MIPPA outreach materials illustrate how programs across the country have marketed Part D Extra Help and Medicare Savings Programs. to low-income Medicare beneficiaries.
Build your own flyer from our template
With guidance from the MIPPA network, NCOA designed this trifold template for agencies to customize and use in their outreach. The accompanying Word document provides tips for how to swap out photos and check that the eligibility guidelines match those in your state.
Examples from your peers
The Aging & Disability Resource Center in OshKosh, WI created this bus ad to showcase their services in the community.
Getting ready to run events for Medicare Open Enrollment this fall? This trifold brochure from the MIPPA grantee in Stockton, CA illustrates how to advertise multiple events for older adults to attend and receive counseling about their Medicare coverage.
This MIPPA outreach flyer was created by CLAIM, the Missouri State Health Insurance Assistance Program (SHIP). The trifold flyer asks consumers about whether they want to pay less for Medicare and provides simple questions to see if they may qualify for the Part D Extra Help or Medicare Savings Programs.
This sample flyer from the Louisiana Senior Health Insurance and Information Program (SHIIP) provides an illustrated example of how the different Medicare benefits work. It includes income and asset eligibility limits for the MSPs and the Extra Help program for singles and couples, and information on how to get SHIIP assistance to apply.
This sample flyer from the Washington SHIP (SHIBA) advertises the services of several walk-in clinics that enable Medicare beneficiaries to get answers to their questions about Medicare, and find out if they qualify for MIPPA benefits.
Looking for a simple quarter page magazine advertisement? Here's one from the North Carolina Senior Health Insurance Information Program.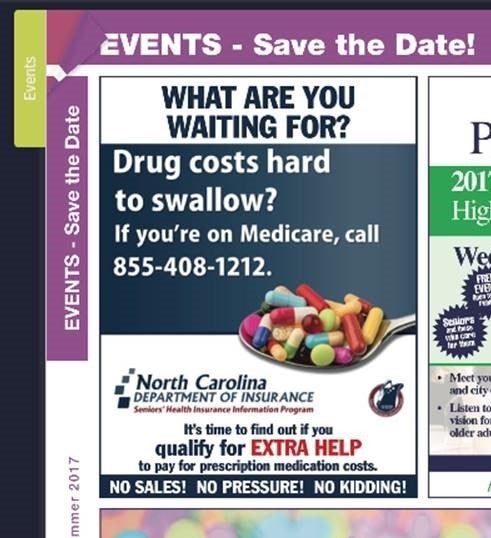 This creative approach from the Oklahoma SHIP provides a "prescription" for saving money on Medicare in the form of a prescription tear-off pad.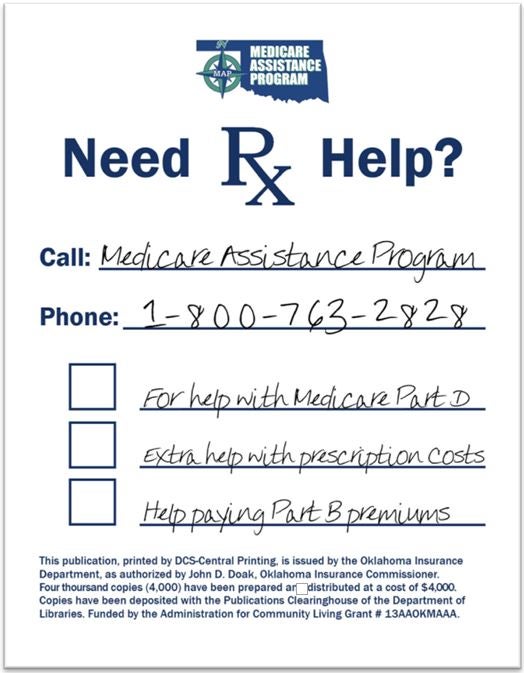 Looking for samples of how to promote Medicare's preventive services? Check out this "paycheck" from New York and this calendar developed by the Virginia Insurance Counseling & Assistance Program.