The National Council on Aging (NCOA) and our National Institute of Senior Centers (NISC) celebrate National Senior Center Month every September.
Welcome to National Senior Center Month
This year, senior centers have grown a great deal — probably more than ever imagined. As senior center professionals, you shined a light on your centers by showing the entire nation how vital you are to the health and well-being of a community. You transformed your centers to virtual classrooms overnight and, in so doing, provided continued means of social engagement and activity during bleak times, turning the table on ageist stereotypes about older adults and technology use. You provided countless hours of support and encouragement and delivered numerous meals. You became even more integral to health care delivery in your communities by providing COVID-19 guidance, vaccine education, and vaccinations to your members. And you played an outsized role in addressing an issue that we all knew was important even before the pandemic: social isolation. Senior centers are opening again, but it will never be business as usual going forward.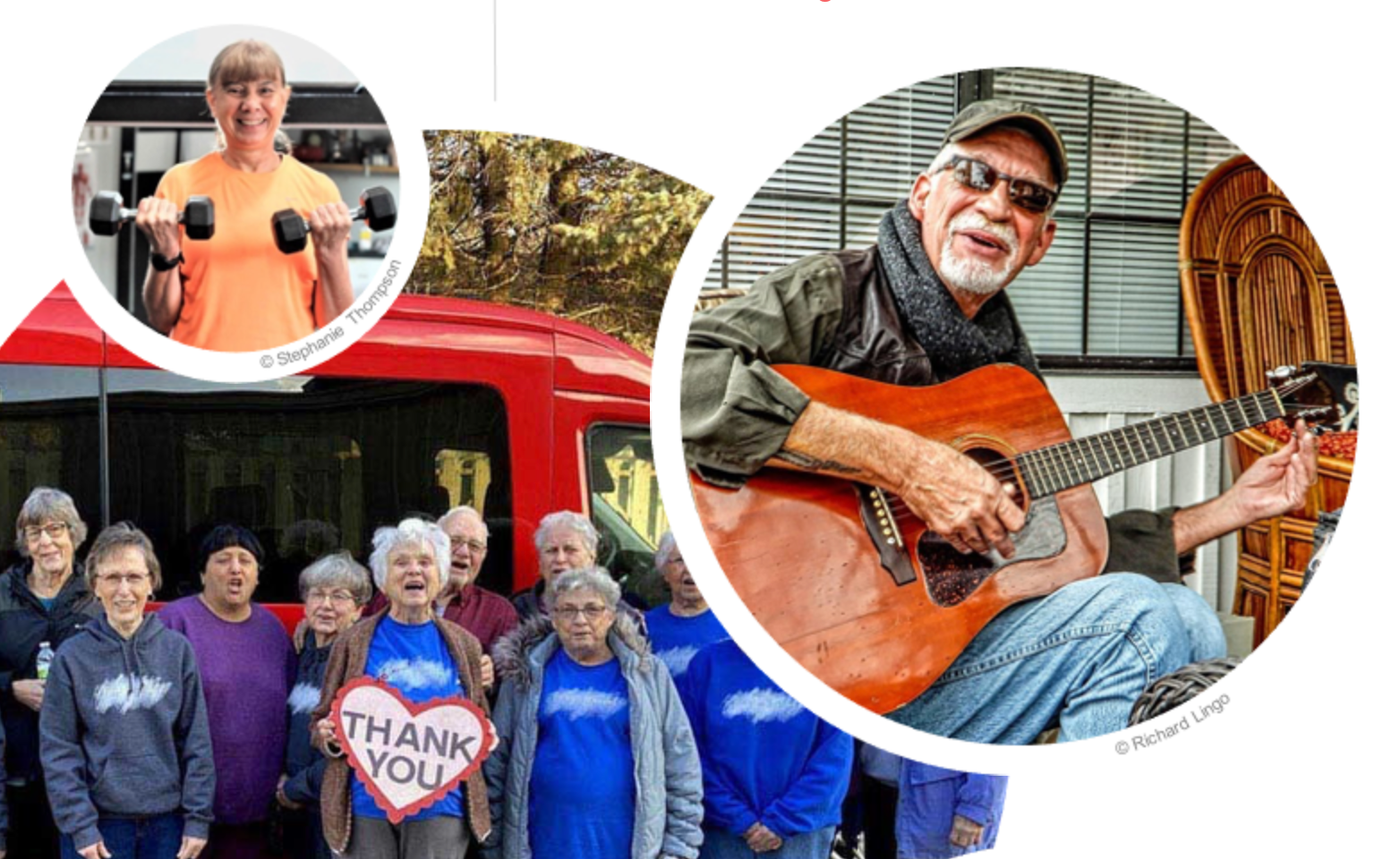 In years past, we chose a theme for National Senior Center Month. This year, we instead want to encourage you to choose a theme or topic that speaks to your senior center in your community.
We want to celebrate all senior centers from the smallest to the largest and give you the opportunity to get the word out in ways that resonate with your community. This year is a time of reflection and also of looking forward, always staying mindful of the present.
Senior Center Month To-Do List
Strategize — Use the listening session profiles in the Senior Center Program Guide (see list of downloads below) to reflect on your own experiences of the past year and build a roadmap for the future.
Customize the 2021 Poster (see list of downloads below) to bring recognition of National Senior Center Month to your center. On page 6 of the Senior Center Program Guide, we provide you with detailed instructions on how you can add your own photos and contact information. If you customize your poster, please save it as a PDF and share it with us at membership@ncoa.org.
Educate your elected officials about how public dollars support services and benefits for older adults, caregivers, family members, and the community at large. Senior center staff and participants are well- positioned to explain how limited public investment, along with growing demand, is having a domino effect on programs and services that help older adults remain healthy and independent in their own homes and communities. It's important that Congress understand how older adults and caregivers are being affected by funding and policy decisions.
Mix it up — Consider planning a different event each week or choose one week out of the month to hold several activities.
Enlist senior center members — Your members know best what appeals to their cohort. Enlist them to help you create and implement activities.
Use the Publicity Guide (see list of downloads below) to capture awareness and promote community involvement and support for your celebration. Your

local media is always looking for a good story about how your community is supporting older adults. This is a great time to engage them with happy, empowering stories of how your center is the key to aging well with exciting virtual and in-person programs and a focus on healthy living.

Our Publicity Guide offers a step-by-step media plan with timelines and tactics, making reaching out to local reporters easy.
Senior Center Month Resources and Downloads
| | | |
| --- | --- | --- |
| | Intended Audience | Language |
| 2021 Senior Center Month Program Guide | Senior Centers | English (PDF) |
| 2021 Senior Center Month Poster (Customizable) | Older Adults | English (Word Doc) |
| 2021 Senior Center Month Publicity Guide | Media/Reporters | English (Word Doc) |