Key Takeaways
Follow these steps to submit a request for assistance for the National Chronic Disease Self-Management Education (CDSME) Database.

You can submit requests for our team to add a new account, fix a problem, create a specific report, or other issues.
Instructions for Seeking Technical Assistance for the National CDSME Database on Data Collection or Database Management Issues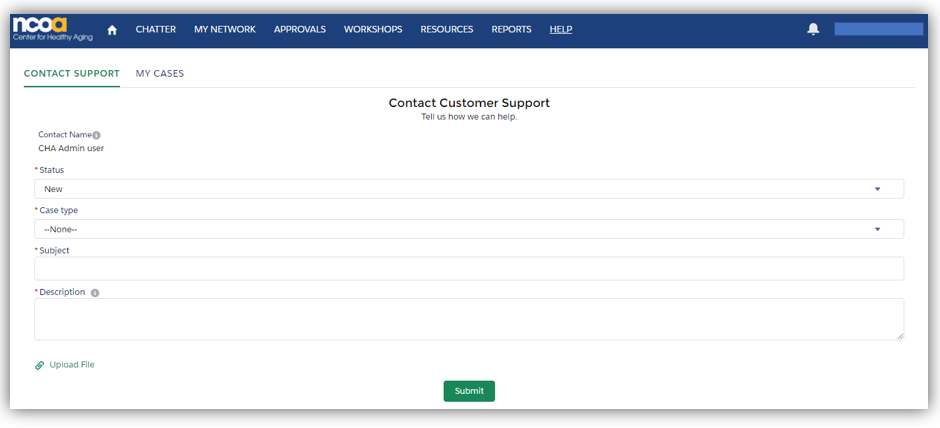 Use the Contact Customer Support Form to describe your request. You don't need to enter your name or other information. Your case is automatically associated with your CHA Community account, including your name, email address, and grantee/network account name.
Under Case Type, select the item that best describes your request (or choose Other, if none-apply):

Help adding host organization/implementation site
Issues with adding workshops/participants
Help navigating CHA community
Help pulling data from PowerBI
Data import processing
Request for custom reports
Other

Add a description of your request in the subject line.
Under Description, provide details of your request and note any requested timelines.
Once you click SUBMIT, the system will create a case summary, generate a case number, and put your case in the queue for resolution. Your case will be triaged, and we will contact you if we require additional information.
Use the Upload File feature to share files or screenshots to inform your case.
You will receive an email notification with your case tracking information details. You may reply to this email with questions related to your case as it's resolved.

Use your case number when referencing your request with NCOA data management staff.
You can check the status of your case at any time under HELP- MY CASES. This will include your case number, status, subject, date/time opened, and the name of the NCOA data management team member to whom its been assigned.
If you don't have an existing account in the National CDSME Database, visit Getting Started and contact Angelica Herrera-Venson (angelica.herrera-venson@ncoa.org) with questions.